Searching for years for the correct business for myself to match my skills and my passion I have finally created Metal Relic.  I have always enjoyed creating different things as well as fixing whatever breaks.  I started in the e-commerce world with designing and selling t-shirts.  Always looking for something more, I have finally found the creative outlet that allows me to share my creations.  Here is the brief history of Metal Relic.
     A few years ago I was visiting my cousin Joey for a 4th of July celebration. We grew up together and were as close as brothers. We both enjoyed most of the same things and had always been working on different types of projects. After the party and when everyone went to sleep we went down into his shop. He showed me the things he was working on. He had a coffee table in progress and some names made out of cut and welded together horseshoes. I was amazed at such great pieces of metal art perfect for a living room or den. Together we made my son's name and the result is an amazing piece that will last a lifetime. The name tag is made completely from horseshoes stick welded together.  I had never really thought about creating artwork out of metal before, let alone welding it together and this was the initial spark I needed. My cousin has since passed away and in everything I do there is a part of him.

     I started tinkering a bit more and looking for other things I can make out of all this random junk and after some thinking I came up with this scrap metal scorpion. It was different for me to create 3 dimensional sculptures as I was accustomed to working in 2D. This was made out of clamps, bolts, nuts and some chain and a bushing.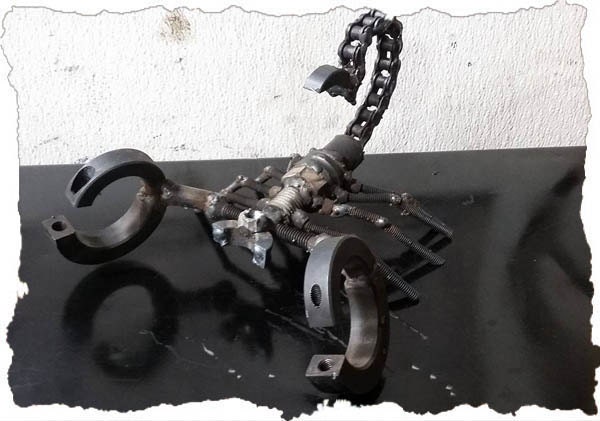 I was able to get my hands on a couple hundred washers and was racking my brain trying to visualize what my next project could be. Here are the first roses I ever created for my wife. Each individual washer was hand bent and welded to create a trio of forever roses with each flower representing one of our children. Everything I have created has been MIG welded from this point forward.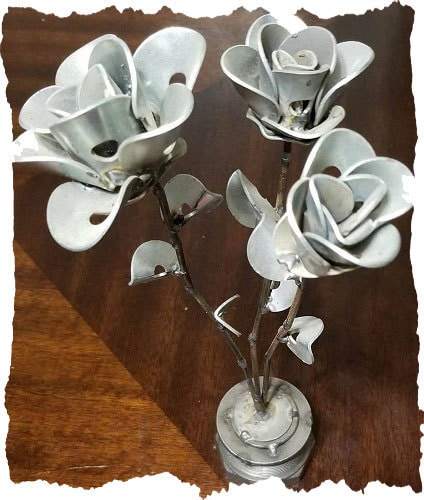 These are the roses I had made for Bob Dunback's wife after he had passed away unexpectedly. Bob was an amazing guy and friend who I worked with for many years at 4 different companies. He was truly one of the best people I had ever met and a great wealth of information. He had taught me many things but the most important was patience when working with metal and welding. I created these for his wife from scrap metal from one job we worked together, with the welding skills that he taught me, at the other job we worked together using the tools that he used all the time. They were given to her on their wedding anniversary. She was so grateful and blown away praising them telling me people would buy them because they are so beautiful. That is where it all really started for Metal Relic.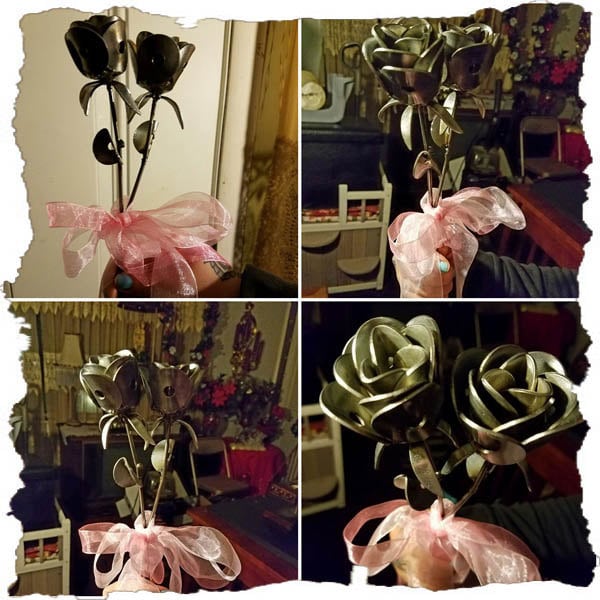 In my field of work as an Industrial Maintenance Technician I am able to acquire scrap metal of all different sorts. I hate seeing all this random "gold" going straight to the scrap yards. It has to have a better purpose. I love to create things from nothing, the feeling of accomplishment is what makes life worth living. The first few things I have created were gifts. Crafted from nothing but my own ideas, hands and some scrap metal. From the roses I moved onto some other ideas. I created two hands with interlocked fingertips holding onto a heart by welding bolts and a couple pieces of scrap sheet metal together.  I enjoyed making the skeleton hands from the scrap and wanted to try a few other different positions. One was a skeleton middle finger which would make a great hood ornament for a Rat Rod (I apologize if you find this offensive) and the other was a self supporting skeleton hand.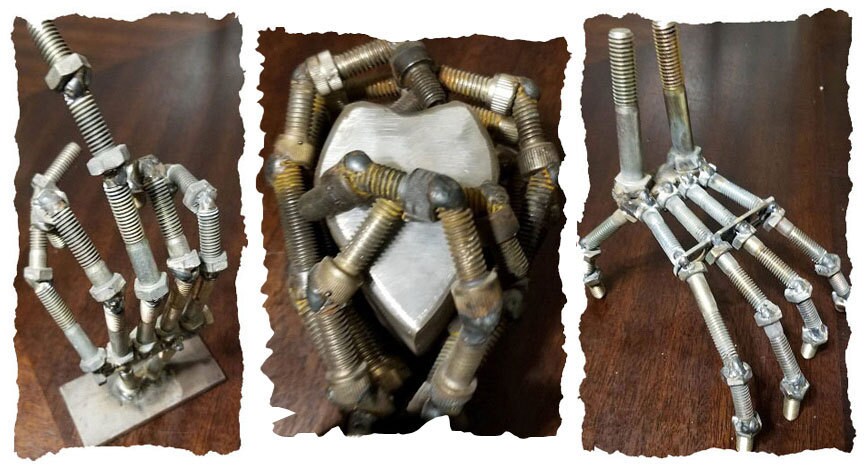 I created MetalRelic on Etsy in April of 2017 and my wedding anniversary was right around the corner. I gave my wife the first Dozen Welded Metal Roses I had created.  I will continue to hone my craft at welding and creating random things as it is something I love to do. The finishing part is getting easier as I progress as a welder.  I would like to thank my wife for without her unyielding faith in me, none of this would be possible.  TJ  for his friendship throughout the years in different online projects and believing in my ideas and trusting my judgment while always pushing for the next step.  Everyone else that has supported me and most importantly in memory of Joseph B. Werner Jr. (Oct. 28, 2015)  and Robert P. Dunback (Nov. 11, 2016), I will always remember the patience and kindness you both have taught me and you will always be a part part of my adventure.